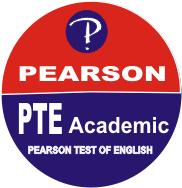 What is PTE?
Pearson Test of English (PTE) is a new, international computer-based academic English language test. The test is dedicated to assessing and measures the listening, reading, speaking, and writing skills of test takers who are non-native speakers of English but wanting to study abroad.
The Pearson Test of English Academic (PTE Academic) is an English language test designed to assess the readiness of non-native English speakers and to demonstrate their level of academic English proficiency.
Why PTE Test?
Results are typically available within five business day
Testing globally over 360 days of the year, in over 250 test centers around the world.
Test takers can send their scores to as many institutions as they like, without an additional fee.
Accepted for study applications by thousands of academic programs around the world.
Computer based marking ensures all test takers are scored impartially and accurately.
Palm-vein scanning, randomized test forms and data forensics ensure test security.
Which countries accept PTE Academic?
PTE Academic is accepted by thousands of universities worldwide, including prestigious institutions such as Harvard Business School, INSEAD and Yale. PTE Academic is also accepted for visa purposes by the Australian and New Zealand governments.
How Many Years PTE is Valid for?
PTE Academic Results are declared within five business days and the scores are valid for up to two years from the date of the exam. Once the two-year period expires, the PTE score is automatically removed from the site and no longer be visible.
PTE General Test
PTE General (formerly known as the London Tests of English) are international English language exams for non-native English speakers. There are six levels which are mapped to the Common European Framework of Reference for Languages.
There are six levels of the General test:
| | | | |
| --- | --- | --- | --- |
| | | Writing | Interview |
| A1 |  Level A1 | 75 mins | 5 mins |
| A2 |  Level 1 | 95 mins | 5 mins |
| B1 |  Level 2 | 95 mins | 7 mins |
| B2 |  Level 3 | 120 mins | 7 mins |
| C1 |  Level 4 | 150 mins | 8 mins |
| C2 |  Level 5 | 175 mins | 8 mins |
PTE General Certificates do not expire. English language learners are encouraged to seek opportunities to practice the language and confirm their progress regularly.
PTE Test Format
The test lasted for three-hours which comprise three main parts to the test: speaking and writing (together), listening and reading. There are twenty different question formats, ranging from multiple choice through to essay writing and interpreting information.
The PTE test structure is as follows:
SECTION
QUESTION FORMAT
TIME
INTRODUCTION
1 – 2 minutes

PART 1

SPEAKING &WRITING

Personal Introduction
Read aloud
Repeat sentence
Describe image
Re-tell lecture
Answer short question
Summarize written text (one sentence)
Summarize written text (paragraph)
Essay (20mins)

77 – 93 minutes

PART 2

READING

Multiple choice questions
Fill in the blanks
Re-order paragraphs
Fill in the blanks
Multiple choice questions

32 – 41 minutes
BREAK
A ten minute break is optional.
10 minutes

PART 3

LISTENING

Summarize spoken text
Multiple choice
Fill the blanks
Highlight the correct summary
Multiple choice
Select missing word
Highlight incorrect words
Write from dictation

45 – 57 minutes
PTE Academic Test Centers and Fees
The fee structure of the PTE Academic 2018 exam varies across countries. For example, In Brazil, the standard application fee of the PTE Academic is USD$160.00 while late registration is USD$200.00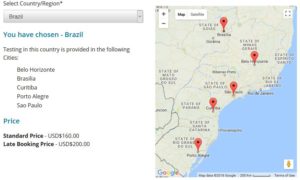 Choose you country, then the available center and fees will be display.
Visit the link to check your test centers and fees: https://pearsonpte.com/the-test/test-centers-and-fees/
PTE Academic Test Dates
There are no set dates for the PTE Academic Test.  Any interested candidates need to register on the PTE Academic official website http://pearsonpte.com/book-now/ to check the available dates specific to test centres across cities.
How to Register for a PTE Academic Test
If you don't have a Pearson account:
Go to http://pearsonpte.com/book-now/ read all the information on the page. In order to book your PTE Academic test, you will need to complete the following:
Click 'Sign in Now' & enter your details. Once you have successfully logged in, click 'PTE-A: Pearson Test of English Academic' under Exam Catalogue.
Select 'Schedule Exams' on the right hand side.
Provide answers to all the required questions then click 'Next'
Select your desired location and click 'Next'. Search for available dates and times.
Once you have confirmed your location, date & time you will be asked to review your booking information and proceed to checkout.
Confirm all the details and make full payment to secure your booking.
Once you have completed your booking you will receive an email confirmation. The email will contain details on test center location, directions of how to get there and a few points to remember on the test day.
PTE accept these payment methods:
MasterCard and Visa debit cards
MasterCard, Visa, American Express and JCB credit cards
Vouchers and promotion codes (you must pay the balance if your voucher does not cover the full test cost)
We do not accept PayPal
NOTE:
Please ensure your name on your ID matches your PTE-A registration name, otherwise you may not be permitted to enter the exam.
For both cases ensure you have read the ID policy on the following page pearsonpte.com/acceptable-id/ and that your ID is valid at the time of registration and on the day of the test.
For more information about Pearson Test of English Academic (PTE Academic) please visit https://pearsonpte.com/the-test/faqs/
MyEduGist Team
If you have any question, kindly drop them in the comment section. I promise to get back to you as soon as possible.
Also don't hesitate to sign up for our Newsletters, like us on  Facebook, follow us on Twitter and Google+