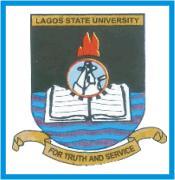 This is to inform the general public and all the interested candidates that the Lagos State University (LASU) Pre-Degree Admission Application form is out for 2018/2019 academic session.
The management of the institution is using this medium to invites applications from suitably qualified candidates for admission into the Lagos State University (LASU) Pre-Degree Studies Programme for the 2018/2019 academic year.
The Programme shall run for One (1) Academic Session beginning from October, 2019, to September, 2019. It is an intensive programme to prepare candidates with deficiency in their O'level result for admission into the 100 level degree programme of Lagos State University.
The Programme is located in the Lagos State University, Epe Campus.
LASU Pre-Degree Admission General Requirements
Candidates must have Credit Passes in at least three (3) Subjects (i. e. Mathematics, English Language, Physics, Chemistry, Biology, Government and Economics, Literature in English, Christian Religious Studies (CRS), Accounting at Senior Secondary Certificate Examination, GCE or NECO at NOT more than two (2) sittings.
Candidates who meet the admission requirements will be invited for a written qualifying examination.
LASU Pre-Degree Available Programmes
THE COURSES TO BE OFFERED ARE:
Mathematics
English Language
Physics
Chemistry
Biology
Government
Economics
Literature in English
Christian Religious Studies (CRS)
     Accounting
Criteria for Transiting to LASU 100 Level
For transition to 100 Level, each candidate is expected to sit for the Unified Tertiary Matriculation Examination (UTME) and also OBTAIN the minimum JAMB Cut Off Mark for the University Admission as well as comply with the University Screening Test as may be prescribed.
In addition, all CANDIDATES with deficiencies are to REGISTER for WAEC and /or NECO, and are expected to pass all the relevant deficient subjects.
Successful Candidates are eligible to be allocated to the 100 Level Courses of related Faculties/Schools/College: Engineering, Science, Management Sciences, Education, Social Sciences, Law, School of Agriculture, Transport, Mass Communication, Nursing, Dentistry and College of Medicine, at the end of the Programme.
On admission, if any Candidate voluntarily withdraws after two (2) weeks, a month or two, from the Programme, only 30% request for refund of school fee can be made by such Candidate before the end of First Term of the Calendar Year. Any request made after that period will NOT be entertained.
How to Apply for LASU Pre-Degree Programme

Prospective Candidates should visit www.lasu.edu.ng and select MAKE PAYMENT option in the drop down list at the top, to make the required payment of Fifteen Thousand Naira (₦15,000:00) only for the 2018/2019 LASU Pre – Degree Studies.
After payment, Candidates should proceed to register online.
LASU Pre-Degree Admission Application Closing Date
Admission application form close Eight (8) weeks from the date of this publication.
Date for Qualifying Examination and Interview
The dates for the Qualifying Examination and Interview for the Successful Candidates for the 2018/2019 Calendar Year will be announced later.
Disclaimer
Any applicant who pays money to any individual/other account / or through other means aside from the one above, does so, to his/her own disadvantage.
General Information
The programme is residential. Candidates offered admission into the programme will be accommodated at the Epe Campus of the Lagos State University.
MyEduGist Team
If you have any question, kindly drop them in the comment section. I promise to get back to you as soon as possible.
Also don't hesitate to sign up for our Newsletters, like us on  Facebook, follow us on Twitter and Google+