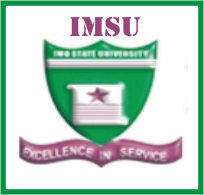 This is to inform the general public that Imo State University, IMSU Pre-Degree Programme admission application form is out for the 2015/2016 academic session.
Imo State University (IMSU) invites suitably qualified candidates to apply for its pre-degree programme admission for the 2015/2016 academic session.
IMSU Pre-Degree Programme – Method of Application
(1) Interested candidates should obtain a registration card containing your application PIN Code from any branch of any of the following banks in Owerri, Imo State:
IMSU Microfinance Bank, and Zenith Bank for the payment of ₦6500.00 Application Fee to the cashier.
(2) Create your Application Account on http://31.222.174.145/IMSU/PreDegreeLogin.aspx.
(3) Login to your Application Account using your username and password.
(4) Fill correctly all required information on the Application form.
(6) Submit each application stage on completion before proceeding to the next stage.
(7) Verify and print your fully completed application form.
(8) Take your application form to the screening centre as registration evidence.
NOTE: Scratch cards from unauthorized vendors or previous transaction cannot be used to start this application process. Please purchase your card only from specified point of sale.
MyEduGist Team
If you have any question on this Post, kindly drop them in the comment section. I promise to get back to you as soon as possible.
Also don't hesitate to sign up for our Newsletters, like us on  Facebook, follow us on Twitter and Google+