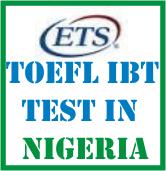 Do you want to register for TOEFL iBT Test in Nigeria Lagos, Abuja & Port Harcout? Do you need TOEFL Test centers in Nigeria, TOEFL Test Dates in Nigeria? If your answer is yes then, this site is for you.
The Test of English as a Foreign Language (TOEFL) is used to measure your ability on how to use and understand English at the university level.
To gain admission and study in colleges and universities abroad as international students you will need to write TOEFL Test exam and pass it.
Instead of the prospective students that are willing to study abroad will travel to the location of the school of their choice to write the test, the IUF has established various examination centers which made it possible for each student to sit for the exam in their home country.
How to Register for TOEFL iBT Test in Nigeria
Nigeria is one of the countries legally recognized for TOEFL exams and as a result of this; there are centers across the country where the prospective student can register, sit and write the test.
TOEFL iBT exam can be register in Nigeria either Online (ETS) or through recognize agent in Nigeria approved by (ETS). There are a lot of centers across Nigeria where the student can register for the test. But not all of them are genuinely by ETS. PLRASE BEWARE!
This article will show you some of these centers who are recognized by ETS to register students for TOEFL Test.
EXAM PLANET
Exam Planet is an accredited TOEFL centre, approved by ETS. Exam Planet is a standard centre of learning with a very good reputation in Nigeria. Exam Planet provides core competence in TOEFL exam in training and coaching. It also provides free study materials (official guide, textbooks and DVD software's) for any student that register with them. For more information about EXAM PLANET please login to her official website: www.myexamplanet.com
E – Global Tech
E – Global Tech is one of the early accredited academic centre approved by iBT to enable students sit for TOEFL exam in Nigeria. E – Global provides TOEFL service all year around which include training, testing, and registration in Nigeria for interested students.
They also assist successful students at the exam to gain admission into the schools of their choice abroad and other requirement such as visa application. In the past seven years, more than 6,302 students who subscribed for their service have gained admission into colleges and universities abroad.
For more information about E – Global Tech login to her official website: www.eglobaltechng.com
UNIQUE EDUCATIONAL CONSULTING
Unique Educational Consulting is an academic institution that provides world class professional educational training and services. They provide students with affordable preparations and enrollment in international exams including TOEFL and others. The institution prepares interested students for TOEFL in Nigeria by registering and tutoring them to enable them obtains high scores in their exams.
They also help successful students to process and gain admission into their desired institution of learning abroad. They have assist thousands of students on study abroad program at our 100 universities in the prominent countries including UK, USA, Canada, South Africa, Australia etc.
For more information about Unique Educational Consulting login to their official website: www.uniqueduconsult.com
STUDY ABROAD INSTITUTE (SAI)
Study Abroad Institute (SAI) is Certified Test Administration Site (CTAS) approved by ETS to provide iBT TOEFL test in Nigeria. SAI provide test centre's equipped with first class computer with high speed internet facilities to deliver online TOEFL test anywhere, anytime in Nigeria.
Their professionally training, certified and dynamic teaching team provides the highest quality of training to the students in morning, afternoon and evening programs.
Login to their official website for more information: www.studyabroadin.com
PATHFINDER EDU. HOUSE
Pathfinder Edu. House is a leading educational consulting firm in Nigeria. They provide test training and registration for interest student in TOEFL and other foreign tests. Pathfinder Edu. House is an educational body that is committed to the development of education in Nigeria by providing a link to promote local and overseas education. They also help students who were successful in the examinations to secure admission in various school of their choice abroad.
For more information about Pathfinder Edu. House login to her official website: www.pathfindereduhouse.com
Disclaimer:
MyEduGist is not in anyway affiliated or associate with any of the above mention TOEFL exam centres in Nigeria. We advise students to be wise by conducting your own personal research on them before dealing with them.
CLICK HERE for more information about TOEFL iBT Test

MyEduGist Team
If you have any question, kindly drop them in the comment section. I promise to get back to you as soon as possible.
Also don't hesitate to sign up for our Newsletters, like us on  Facebook, follow us on Twitter and Google+