This is to announce to all the prospective Corps that they can now make payment on National Youth Service Corps (NYSC) Portal Using Remita Pay Engine.
The PCM should go to the portal home page (nysc.org.ng) and follow the following steps:
STEP 1 Click on "Login".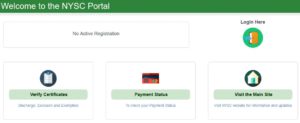 STEP 2 PCM enters Email ID and Password to login
STEP 3
PCM clicks on "click here to make payment".
After a successful login,The PCM will click on "Proceed to Payment," once the payment confirmation page is displayed, the PCM will be redirected to Remita Payment Engine with various payment options.
Option A: For Cards and Wallet Payments;
PCM clicks on "Pay now with Cards or Wallets"
PCM provides card details, pin and any other information required and if the transaction is successful, the redirect URL is loaded
Click on status of the transaction..
Option B: Paying in any Bank Branch:
Copy the RRR number generated by NYSC portal and take to any of the approved banks. Click on "see available bank branches" to view the banks.
After making the payment at the bank branch, the PCM can check payment status on the URL: https://portal.nysc.org.ng/nysc1/TransactionStatus_remita PCM inputs transaction reference number/email id or phone number used in Registering online. Click on "continue" to query Remita and view the transaction detail?
Click on "Get status" to view the details of payments.
Information
1. Persons who studied in Nigeria should bring to camp: Degree/HND Certificates or Statement of Results, Personal Identity Card from Institution of graduation.
Foreign graduates should bring for verification, original copies of ALL their uploaded credentials and travel documents including International passport.
2. Foreign graduates are to ensure that academic paper(s) in Languages other than English must be translated into English accordingly; both versions must be presented for verification at the camp.
3. Medical/veterinary Doctors, Dentists, Pharmacists, Optometrists, Physiotherapists Nurses and Public Environmental Health graduates should bring their professional licenses or certificates of full registration issued by their professional bodies.
Note: Above is for your information and necessary action.
Useful Links:
MyEduGist Team
If you have any questions, kindly drop them in the comment section. I promise to get back to you as soon as possible.
Also don't hesitate to sign up for our Newsletters, like us on  Facebook, follow us on Twitter and Google+