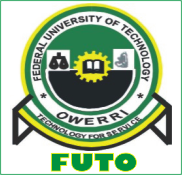 Candidates who scored 180 marks and above and chose Federal University of Technology, Owerri as choice university in the 2015 Unified Tertiary Matriculation Examination (UTME), are hereby invited to a Screening Exercise for 2015/2016 academic session.
Intending applicants are expected to first login to apply.futo.edu.ng to ascertain their eligibility to participate in 2015/2016 FUTO Post-UTME Screening Exercise, based on the list JAMB sent to FUTO.
FUTO Post-UTME Screening Time Table
S/N
GROUP
DATE
TIME
1
Petroleum Engineering (PET)
Monday, August 10, 2015
8.00am
Chemical Engineering (CHE)
Civil Engineering (CIE)
Agricultural Engineering (AGE)
2
Elect/Elect Engineering (EEE)
Tuesday, August 11, 2015
8.00am
Mechanical Engineering (MEE)
Materials/Metallurgical Engineering (MME)
Food Science Technology (FST)
3
School of Physical Sciences (SOPS)
Wednesday, August 12, 2015
8.00am
Biomedical Technology (BMT)
Optometry (OPT)
4
School of Management Technology (SMAT)
Thursday, August 13, 2015
8.00am
Public Health Technology (PHT)
Prosthesis and Orthopedics Technology (POT)
5
Polymer and Textile Engineering (PTE)
Friday, August 14, 2015
8.00am
School of Environmental Technology (SOET)
School of Biological Sciences (SOBS)
School of Agric/Agric Technology (SAAT)
Wishing you success
MyEduGist
If you have any question on this article, kindly drop them in the comment section. I promise to get back to you as soon as possible.
Also don't hesitate to sign up for our Newsletters, like us on  Facebook, follow us on Twitter and Google+