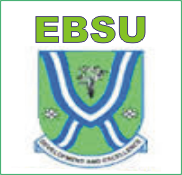 Ebonyi State University (EBSU), Abakaliki invite all candidates who scored 180 marks and above in 2015/2016 Unified Tertiary Matriculation Examination (UTME) and chose EBSU at the first choice and direct entry candidates to register for the Post-UTME and Direct Entry.
The registration / processing start on Tuesday, 14th July – Monday, 10th August, 2015. The examination / screening test hold on Friday, 15th August, 2015
SCHEDULE FOR EBONYI STATE UNIVERSITY 2015/2016 POST UTME SCREENINGT TEST AND O/L ONLINE CERTIFICATE VERIFICATION FOR FIRST CHOICE AND DIRECT ENTRY CANDIDATES
CANDIDATES' FACULTY/DEPT/ COURSES OF CHOICE
EXAMINATION CENTRE NAME
EXAM NO.
LAW
Faculty of Agriculture and

Natural Resources Management,

CAS Campus – Centre 1

LAW 0001-1100
MANAGEMENT SCIENCES

*   PUBLIC ADMINISTRATION

* ACCOUNTANCY

* BANKING & FINANCE

*   BUSINESS MANAGEMENT

* MARKETING

EBSU Secondary School,

CAS Campus, Centre 2

FMS 0001-1320
EDUCATION ARTS

*   ARTS & SOC. SCI. EDU. (ECO,

SOC STD, ENG, REL, IGBO EDU)

* EDUCATIONAL FDNS (ADMIN &

PLANNING, G & C)

Pre-Degree School,

CAS Campus, Centre 3

EDA 0001-0170
SOCIAL SCIENCES & HUMANITIES

*   ECONOMIC

* PSYCHOLOGY

* SOCIOLOGY & ANTHROP.

* HISTORY & INT'L RELNS.

* POLITICAL SCIENCE

* LANGUAGES & LINGUISTICS

Faculty of Law,

CAS Campus, Centre 4

FSH 0001-1690
FACULTY OF SCIENCE

* APPLIED MCIROBIOLOGY

* APPLIED BIOLOGY

* BIOTECHNOLOGY

*   INDUSTRIAL CHEMISTRY

* INDUSTRIAL PHYSICS

* INDUSTRIAL MATHS/ APPLIED

STATISTICS

* COMPUTER SCIENCE

*   GEOLOGY & EXPLORATION GEOPHYSICS

Faculty of Education,

Ishieke Annex, Centre 5

FACULTY OF MEDICINE

* ANATOMY

* MEDICINE & SURGERY

Faculty of Management Sciences,

Main Campus, Centre 6

FMC 0001-1550
HEALTH SCIENCES & TECH.

*   MEDICAL LABORATORY SCI.

* NURSING SCIENCE

Faculty of Social Sciences & Humanities,

Main Campus, Centre 7

HST 0001-1120
AGRIC & NAT. RES. MGT.

*   AGRIC ECONS MGT & EXT.

* CROP PRODUCTION &

LANDSCAPE MANAGEMENT

* SOIL SCI. & ENV. MGT.

* FOOD SCI. & TECH.

*   FISHERIES & AQUACULTURE

*   ANIMAL SCIENCE

Faculty of Health Sciences and Technology, PRESCO Campus, Centre 8
AGR 0001-0120
EDUCATION SCIENCE

*   TECH & VOC. EDU.

*   SCI. EDU. (CSC, BIO, MATHS,

CHEM, PHY, INTG. SCI. EDU.)

* HOME ECONOMICS

*   HUMAN KINETICS & HEALTH

EDUCATION

Faculty of Applied and Natural Sciences, PRESCO Campus, Centre 9
EDS 0001-0050
NOTE: Candidates are expected to locate/report to their Examination centres as shall be indicated on their acknowledgement slips.
HOW TO REGISTER
Eligible candidates should compulsorily proceed to any of the designed Banks in and pay the sum of N3,000 on the e-transact platform; to cover UTME Registration/Examination and O/L verification/processing. Please collect your e-transact print-out that bears your receipts number and Confirmation Order (Pin) number from the Bank.
Designed Banks for Payment are:
| | | | |
| --- | --- | --- | --- |
| S/N | BANKS |                ACCOUNT NAME |    ACCOUNT   NO. |
| 1 | Fidelity Bank Plc | Ebonyi State University, Abakaliki |          4010474892 |
| 2 | Zenith Bank Plc | Ebonyi State University, Abakaliki |          1011747601 |
| 3 | Diamond Bank Plc | Ebonyi State University, Abakaliki |          0007909716 |
| 4 | GT Bank | Ebonyi State University, Abakaliki |          0043960872 |
| 5 | First Bank Plc | Ebonyi State University, Abakaliki |          2013358325 |
| 6 | EBSU Microfinance Bank |  Ebonyi State University, Abakaliki |          3351000005 |
| 7 | Eco Bank | Ebonyi State University, Abakaliki |        2692007058 |
| 8 | UBA |  Ebonyi State University, Abakaliki |        1004173297 |
| 9 | Enterprise Bank | Ebonyi State University, Abakaliki |        1400002926 |
Note:
Payment can be made at any of the listed Bank branches nationwide.
Candidates must present their UTME result notification slips to Banks to ensure payments with correct JAMB Registration Numbers.
With the e-transact print-out, the candidate should access and complete the Registration Form at www.ebsu-edu.net.
Procedure to complete the registration form:
(i)    Click Here to complete your Post UTME APPLICATION FORM. http://portal.ebsu-edu.net/modules/applications/PostUTMERegistration.aspx
(ii)   Click Here to complete your Direct Entry Application Form. http://portal.ebsu-edu.net/modules/applications/Login.aspx?idx=DENT
(iii)   Input your Confirmation Order (Pin) number and your JAMB Registration number.
(iv)   Carefully fill the Post UTME Screening Registration Form completely with major attention to your WAEC/NECO etc details such as WAEC/NECO scratch card Pin Number; Exam Centre Number, Exam Registration Number, Subjects with Grades obtained. Purchase of WAEC/NECO etc. Scratch card(s) for the exercise is the responsibility of each candidate.
(v)     Upload a clear copy of your passport photograph. (The format of uploading should be gif or jepg and should not be above 200 x 200 pixel).
(vi)   Click on SUBMIT and ensure that all your entries are correct in all the fields.
(vii)   Thereafter, your acknowledgement slip will be displayed.
(viii)   Print and keep your acknowledgement slip for later reference/use.
 For more information, visit www.ebsu-edu.net and click on Post UTME Screening Guide.
Candidates should come to the examination centres with the following:
(i)   Two clear copies (with clear picture) of their Post UTME ACKNOWLEDGEMENT SLIP
(ii) Original and photocopy of UTME result notification slip and photocopy of O/L level results to the examination centres for submission during the examinations. Those on O/L Awaiting result shall write 'O/L A/R' on their UTME result slips.
(iii) Confirmation Order (Pin) Number used for registration (with the Bank Teller)
(iv) HB Pencil, eraser and sharpener.
At the screening, candidates will answer questions in
Use of English (compulsory for ALL candidates).
Any other 3 subjects according to candidates' choice of programme.
There will be 14 subjects for Arts related candidates and 9 subjects for Science related candidates to choose from (see details online).
Candidate should note the following pieces of information
(i)   Payment after Monday, 10th August 2015 shall be of no effect.
(ii) All due payments without due online registration shall not qualify any candidate for the examination.
(iii) Blurred scanned passport photograph will disqualify an applicant.
(iv)  GSM phones, calculators and other electronic devices are not allowed into Examination/Screening venues.
(iv) On the Examination day, ensure that the OMR (answer) sheet given to you is pre-shaded in your correct particulars.
(vi)   Submit your question papers along with your OMR sheets at the end of the
(vii) Only candidates whose WAEC/NECO etc results are verified by our portal may be considered for admission into Ebonyi State University.
(viii) Screening of results as well as admission into Ebonyi State University for the 2015/2016 academic year will be posted on our website. Manual publication may also be made in EBSU Admissions Office in CAS.
DIRECT ENTRY CANDIDATES
Direct entry candidates who chose EBSU and possess a minimum of OND/OD upper credit are also to participate in this online screening exercise for the purpose of screening/verification of their O/Level results only. These candidates are NOT required to write the screening test.
PAYMENT / REGISTRATION CLOSING DATE
All payment into Banks shall close on Monday, 10th August, 2015 while our website for online registration shall be shutdown at 12 Midnight on Monday, 10th August, 2015.
HELP DESK: Send e-mail to support@tenece.com or Gabriel.ugwu@ebsu-edu.net. Phone: 07033865888, 08078585178, 07030071426, 08067664449, 08062987733, 08067471321, 08055857555 and 08035649390.                    
MyEduGist Team
Also don't hesitate to sign up for our Newsletters, like us on  Facebook, follow us on Twitter and Google+