The is to announce to the general public that the Australian Catholic University (ACU), Australia, is offering scholarship opportunities to International students who are willing to pursue a degree program at the University 2018.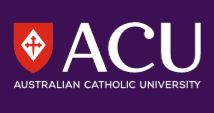 About this Scholarship
Established in 2018 the Community Engagement Scholarship is a two-year program that recognises and rewards students who demonstrate a commitment to ongoing development of their knowledge and skills in community engagement.
Community Engagement Scholars take on a large commitment during the two years of the program. Refer to 'Ongoing Requirements' below.
Scholars are provided with:
A work space and access to a computer in the ACU Engagement office
An ACU Engagement mentor throughout their participation in the program
Access to all ACU Engagement seminars, workshops and other community engagement learning opportunities
The opportunity to give a presentation on their learnings to our community partners and senior ACU Staff at the end-of-year seminar.
Eligibility
This scholarship is open to applicants who meet all of the following criteria, as of the scholarship application closing date.
Citizenship: Domestic and international students
Faculty: any
Course: any ACU undergraduate degree
Campus: any
Year level: Second year or above
Contribution to, and/or leadership in, community service
Minimum cumulative GPA: 5.0 (on the ACU seven point scale).
Ongoing Requirements
To remain eligible for scholarship payments, recipients are required to maintain the following:
Remain enrolled in course identified at the time of application
Maintain a minimum cumulative GPA of 5.0
Participate in a minimum of 100 hours of community engagement practicum per year with ACU Engagement (may include internally-focused engagement activities)
Participate in a minimum of 100 hours of approved community engagement activity per year with community partners of ACU Engagement
Attend quarterly workshops focused on topics related to community engagement run by ACU Engagement
Maintain an electronic portfolio that displays their progress and achievements throughout their time in the CES Program
Maintain regular contact with their ACU Engagement mentor
Value Of Scholarships
The scholarship has a total value of $10,000, being $5,000 per annum, to be paid in $2,500 instalments each semester over two years.
There are two scholarships available.
Click this link HERE for more details
Australian Catholic University International Scholarship 2018 Application Closing Date
The application Open on Monday, 20 August 2018 and Closes on Friday, 5 October 2018.
MyEduGist Team
If you have any question on this Post, kindly drop them in the comment section. I promise to get back to you as soon as possible.
Also don't hesitate to sign up for our Newsletters, like us on  Facebook, follow us on Twitter and Google+