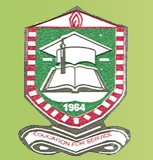 We are glad to inform the general public that the Adeyemi College of Education, Ondo State (ACEONDO)  sandwich programmes admission form for the 2016/2017 contact session is out and now available of sale.
The management of the institution is using this medium to invites applications from suitably qualified candidates for admission into NCE Sandwich Programmes of Adeyemi College of Education, Ondo for 2016/2017 Contact Session.
The Programme is designed to prepare students for NIGERIA CERTIFICATE IN EDUCATION.
Adeyemi College of Education Sandwich Available Programmes
The College offers NCE Sandwich Programme in the following Subjects in these Schools:
SCHOOL OF ARTS AND SOCIAL SCIENCES
Courses Available
Christian Religious/Social Studies
Christian Religious/Hausa
Christian Religious/Yoruba
English/Social Studies
Hausa/Social Studies
Igbo/Social Studies
Economics/Social Studies
Yoruba/Social Studies
SCHOOL OF EDUCATION
Courses Available
Primary Education Studies/Christian Religious Studies
Primary Education Studies/Computer Science
Primary Education Studies/Social Studies
Primary Education Studies/Igbo
Primary Education Studies/Hausa
Primary Education Studies/English
Primary Education Studies/Yoruba
Primary Education Studies/Integrated Science
Primary Education Studies/Economics
Department of Early Childhood and Care Education
ECCE/English
ECCE/Yoruba
 ECCE/Mathematics
ECCE/History
ECCE/Integrated Science
ECCE/Social Studies
ECCE/Igbo
ECCE/Economics
ECCE/Hausa
ECCE/French
ECCE/Biology
SCHOOL OF LANGUAGES
Courses Available
English/French
English/Yoruba
French/Yoruba
Hausa/Yoruba
Igbo/English
French/Igbo
French/Hausa
SCHOOL OF SCIENCE
Courses Available
Physical and Health Education
Integrated Science/Chemistry
Integrated Science/Mathematics
Integrated Science/Physics
Integrated Science/Biology
Mathematics/Economics
Computer Science/Mathematics
Computer Science/Integrated Science
Computer Science/Physics
Computer Science/Economics
SCHOOL OF VOCATIONAL AND TECHNICAL EDUCATION
Courses Available
Agricultural Science
Business Education
Fine and Applied Arts
Home Economics
Adeyemi College of Education Sandwich – Admission Requirements
Grade II Teachers Certificate, 3 of which must be at Credit level in the relevant subject areas
5 passes at the Ordinary Level GCE/SSCE/NECO including English Language, 3 of which must be at credit level in one sitting or 4 credit at 2 sittings
iii.        For Primary Education Studies combination: Teachers Grade II Certificate with passes in all subjects and a minimum of 5 years teaching experience
For Business Education, candidates must possess any of the following qualifications:
(a)    5 passes at the Ordinary level GCE/WASC/SSCE/NECO/NABTEB including English Language with at least 3 credits at a sitting or 4 credit at 2 sitting in the following subjects: Economics, Principles of "Accounts, shorthand, Business Education, Introduction to business Management, Typewriting, commerce or any other relevant subject.  A pass in mathematics is a compulsory requirement;
(b)   Grade II Teachers' Certificate with credit or merit passes with at least a pass in mathematics and credit in English Language or
(c)    WAEC Commercial or RSA Stage II Certificate with passes at not more than 2 sittings in five subjects including English Language and 3 relevant subjects chosen from (a) above.
How to Apply
 Visit http://aceondo.net
 Click on "Apply Online"
Choose "2016/2017 Part Time Degree Application", choose your username, enter your email and choose a password, and click "Apply"
There are two methods of payment

Online Payment:  Click on "Make Payment", follow the on screen instructions, enter your card details when requested.
Bank Payment

·         Visit any bank nationwide
·         Ask to use the Etranzact PayOutlet platform to pay for Adeyemi College of Education   2016/2017 Part time Degree Application Fee and pay the sum of #10,000.00 (bank charges may apply)
·         The bank will generate a PIN (Confirmation Order No) for the processing of the application online.

Click "My Application" and fill the form correctly as editing is not allowed once application form is submitted
Candidates must ensure that they print hard copy of the processed application form and submit two (2) copies to the Directorate of Part Time Studies, Adeyemi College of Education, Ondo.
Adeyemi College of Education Sandwich Application Closing Date

All applications must be submitted not later than Friday, 17th February, 2017 as lectures will commence in March 2017.
LECTURES HOLD DURING SCHOOL VACATIONS AT THE FOLLOWING DESIGNATED CENTRES
Adeyemi College of Education, Ondo
Adeyemi College of Education Model Secondary and Primary School, 57A&B, Fadeyi Street, Oshinle Quarters, Akure.
MyEduGist Team
If you have any question, kindly drop them in the comment section. I promise to get back to you as soon as possible.
Also don't hesitate to sign up for our Newsletters, like us on Facebook, follow us on Twitter and Google+