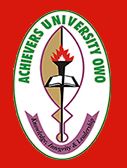 This is to inform the general public and all the interested candidates that the Achievers University, Owo (AUO), Ondo State, Joint Universities Preliminary Examinations Board (JUPEB) Admission Application form is out for 2018/2019 academic session.
Candidates who successfully complete ONE-YEAR programme, after examinations administered by JUPEB, will gain Direct Entry admission to 200 Level Degree programmes of Achievers University and other Universities in Nigeria.
Entry Requirement
Eligible candidates must possess a minimum of five credits obtained at not more than two sitting in WAEC (SSCE) or NECO (SSCE).
Achievers University (AU) JUPEB Subject Combinations
The University, through highly qualified tutors, provides intensive lectures in relevant subject combinations by highly qualified tutors in line with JUPEB syllabus in the following subject combinations:
BCP- Biology/Chemistry/Physics
MGE-Mathematics/Geography/Economics
EGL-Economics/Government/Literature-in-English
GLR-Government/Literature-in-English/Religious Studies
AEG-Accounting/Economics/Geography or Government
CMP-Chemistry/Mathematics/Physics
EGM-Economics/Government/Mathematics
BEG-Business Management/Economics/Government
ABG/Accounting/Business Management/Geography or Governement
Required Subject Combinations For Programmes
A. COLLEGE OF SOCIAL AND MANAGEMENT SCIENCES (COSMAS)
B.Sc. Accounting – MGE, AEG, EGM, BEG, ABG
B.Sc. Banking & Finance – MGE, AEG, EGM, BEG, ABG
B.Sc. Business Administration – MGE, AEG, EGM, BEG, ABG
B.Sc. Economics – MGE, AEG, EGM, BEG, EGL
B.Sc. Political Science – AEG, EGM, BEG, EGL, GLR, ABG
B.Sc. International Relations – AEG, EGM, BEG, EGL, GLR, ABG
B.Sc. Public Administration – AEG, EGM, BEG, EGL, ABG
B.Sc. Sociology – AEG, EGM, BEG, EGL, ABG
B.Sc. Criminology & Security Studies – AEG, EGM, BEG, EGL, ABG
B. COLLEGE OF NATURAL AND APPLIED SCIENCES (CONAS)
B.Sc. Microbiology – BCP
B.Sc. Industrial Chemistry – BCP, CMP
B.Sc. Biochemistry – BCP
B.Sc. Geology – CMP
B.Sc. Computer Science – CMP
B.MLS Medical Laboratory Science – BCP
B.NSc. Nursing Science – BCP
How to Apply for Achievers University (AU) JUPEB Admission Online
Candidates can process admissions by:
Candidates are to pay a sum of ₦7,500 at Zenith Bank Plc – Account No. 1015462070 and evidence of payment attached to application forms, which should be submitted to the Office of the Director of AU-FAP, Achievers University, Owo.
Obtaining the forms at Achievers University, Owo or any of the screening centres
or

For futher information, contact the following: Bayode: 0803-374-6527, Adebayo: 0803-343-2195, Bunmi: 0703-847-7064
Oluchi: 0803-936-6046
MyEduGist Team
If you have any question, kindly drop them in the comment section. I promise to get back to you as soon as possible.
Also don't hesitate to sign up for our Newsletters, like us on  Facebook, follow us on Twitter and Google+