We are glad to announce to the general public that A 2-DAY FIDIC EPC MODULE INTERNATIONAL TRAINING 2015 application form is now on sale.
The two day course will provide a thorough understanding of the FIDIC EPC/T form of contract (otherwise known as the "Silver Book"). The course will begin by looking at the background to EPC/T projects and their specific features. The manner in which the Silver Book approaches these features will be compared to and contrasted with the approach taken by the more traditional FIDIC contract forms.
The introduction will be followed by a detailed explanation of each clause with emphasis on the key issues such as contractor's responsibility for design, fitness for purpose, errors in Employer's Requirements, unforeseeable physical conditions, testing, payments, variations and claims. The course will end with a look at the dispute resolution processes defined by FIDIC, including foreseeable developments in this area.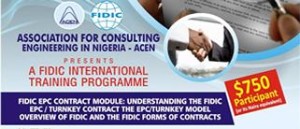 PROGRAMME OUTLINE FOR EPC MODULE
Contract
General issues
Contracting strategy- Balanced Contracts
Law and the Contract
Introduction to the 1999 FIDIC documents 
(Construction Contract; Plant and Design-Build, Turn Key, Short Form Contract)
Background and reasons for change
Examination of format and content of General Conditions
Examination of Guide to Particular Conditions
Annex to documents
Selection of appropriate Contract
EPC Contract – Responsibilities of Main Parties
General issues
Responsibilities of the Employer
The Employer Administration
The Contractor
Design
EPC Contract – Management of Projects – Key Areas Workmanship and Time
Staff and Labor
Plant, Materials and Workmanship
Commencement, Delays and Suspension
Tests on completion
Employer Taking Over
Defect Liability
Tests after Completion
EPC Contract – Financial Clauses and Procedures
Variation and Adjustment
Contract Price and Payment
EPC Contract – Risks, Force Majeure & Termination
Termination by Employer
Suspension & Termination by Contractor
Risks and Responsibilities
Insurance
Force Majeure
EPC Contract – Claims Disputes & Arbitration
Claims procedures
Disputes Adjudication Board
DAB Agreement & Procedures
Amicable Settlement and Arbitration
FIDIC International Training Date, Venue and Time
DATE: 24-25th November 2015
VENUE: Sheraton Hotel Ikeja, Lagos.
TIME: 9AM -5PM DAILY
MyEduGist Team
If you have any question on this Post, kindly drop them in the comment section. I promise to get back to you as soon as possible.
Also don't hesitate to sign up for our Newsletters, like us on  Facebook, follow us on Twitter and Google+