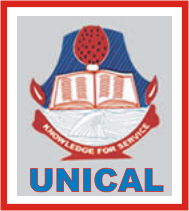 This is to inform the interested candidates that University of Calabar, UNICAL Post UTME minimum cut-off mark is 180 and Post UTME screening exercise application form for the 2015/2016 academic session admission is out.
Eligibility Candidate for UNICAL Post UTME
Candidates for Medicine/Surgery and Law are required to have scored 200 and above in UTME.
For all other programmes, candidates with UTME score of 180 and above are eligible.
Candidate who chose the institution UNICAL their First choice of study in UTM
UNICAL Post UTME Screening Exercise Timetable
Candidates' whose UTME score is not less than indicated below for the respective programmes are eligible to apply. UNICAL post UTME screening exercise has now been rescheduled to take place from the 24th of August to 25th August, 2015.
The time table is as shown below with each department cut-off mark:
FACULTY
DEPARTMENT
TIME
DAY ONE : MONDAY, 24TH AUGUST 2015
8.00 A.M – 11.00 AM
FACULTY OF AGRICULTURE
1. ANIMAL SCIENCE
2. AGRIC ECONS & ECONS & EXT
3. FORESTRY & WILDLIFE RES. MGT.
4. FOOD SC. TECHNOLOGY
5. SOIL SCIENCE
6. CROP SCIENCE
FACULTY OF ALLIED MEDICAL SCIENCE
1. NURSING SCIENCE
2. MEDICAL LAB. SCIENCE
3. RADIOGRAPHY
4. PUBLIC HEALTH
FACULTY OF BASIC MEDICAL SCIENCES
1. BIOCHEMISTRY
2. ANATOMY
3. PHYSIOLOGY
4. HUMAN NUTRITION & DIETETICS
FACULTY OF MEDICINE & DENTISTRY
1. MEDICINE & SURGERY
2. DENTISTRY
DAY ONE AFTERNOON SESSION: MONDAY, 25TH AUGUST 2015
1.00PM – 3.00 PM
FACULTY OF EDUCATION
1. ADULT & CONT. EDU
2. EDU. FOUND. GUID. & COUNS.
3. EDU. ADMIN & PLANNING
4. PHYSICAL & HEALTH EDU
5. SPECIAL EDU
6. ELEM. EDU
7. ENVIRONMENTAL EDU
8. LIB & INFORMATION SC.
9. HUMAN KINETICS (PHYSICAL & HEALTH EDUCATION)
9. EDU TECH
10. EDU BIOLOGY
11. EDU PHYSICS
12. EDU MATHS
13. EDU CHEMISTRY
14. EDU AGRIC
FACULTY OF SCIENCE
1. BOTANY
2. PURE & APPLIED CHEMISTRY
3. COMPUTER SCIENCE
4. MATHEMATICS
5. STATISTICS
6. PHYSICS
7. ELECTRONIC & COMPUTER TECHNOLOGY
8. APPLIED GEOPHYSICS
9. GENETICS AND BIOTECHNOLOGY
10. GEOLOGY
11. ZOOLOGY AND ENV. BIOLOGY
12. MICROBIOLOGY
13. FISHERIES & AQUACULTURE
DAY TWO MORNING SESSION: TUESDAY, 25TH AUGUST 2015
8.00 A.M – 11.00 AM
FACULTY OF ARTS
1. ENGLISH
2. HISTORY
3. THEATRE & MEDIA STUD.
4. REL. & CULT. STUDIES
5. MODERN LANG. (FRENCH)
6. CHRISTIAN REL. STUD.
7. LINGUISTICS
8. PHILOSOPHY
FACULTY OF EDUCATON CONTD.
1. ENGLISH EDU.
2. EDU FRENCH
3. EDU REL STUD.
4. EDU ARTS
5. EDU HISTORY
FACULTY OF LAW
1. LAW
DAY TWO AFTERNOON SESSION: TUESDAY 25TH , AUGUST 2015
1.00PM – 3.00 PM
FACULTY OF MANAGEMENT SCIENCE
1. ACCOUNTING
2. BANKING/FINANCE
3. BUSINESS MGT.
4. MARKETING
FACULTY OF EDUCATON CONTD.
1. BUSINESS EDU.
FACULTY OF SOCIAL SCIENCES
1. ECONOMICS
2. POL. SCIENCE
3. PUBLIC ADMIN
4. SOCIOLOGY
5. SOCIAL WORK
6. GEOGRAPHY AND ENVIRONMENTAL SCIENCE
7. ENVIRONMENTAL PROTECTION MANAGEMENT (EPM)
FACULTY OF EDUCATON CONTD.
1. EDU SOCIAL STUDIES
2. EDU ECONS
3. EDU GEOGRAPHY
4. EDU SOCIAL SC.
UNICAL Post UTME Application Procedures
Walk into any of the participating banks.
Request to make payment for UNICAL Post UTME e-scratch card or paper scratch card based on the options below.
You will be required to pay ₦6,500.00 (Six thousand, Five hundred naira only) which covers the screening fee, practice question papers, CBT/portal and bank charges.
1st METHOD:
UNICAL Microfinance Bank,
WEMA Bank Plc,
Enterprise Bank Ltd.
First City Monument Bank Plc.
Walk into any branch nationwide.
Pay for Unical UTME pin on E-transact platform and the Bank will post the payment to activate your pin.
Log on to http://unical.postutme.org with the generated PIN for the Post-UTME.
Complete the form and print your cope
2nd METHOD:
THE PAPER SCRATCH CARD OPTION
Post-UTME Scratch cards are available for those who reside in Calabar or have difficulties in obtaining the e-scratch card receipt
On obtaining the scratch card, proceed to any Internet facility.
Log on to http://unical.postutme.org
On the home page, you will be required to enter your JAMB Registration no. in the box provided
(Be sure to put your correct JAMB No.) and scratch card pin to enable you gain access. Upload your passport and signature, click on: "submit" and follow the on-line instructions.
FINAL STEP
Confirm your entries before clicking on submit. After clicking on submit, print the form as evidence of your registration and bring it along to the screening venue.
Download the version of Practice Questions related to your Programme of study after filling the online application form.
UNICAL Post UTME Registration Closing Date.
UNICAL Post UTME Registration will shut down at 12.00 MID-NIGHT on 19th August, 2015.
The Examination is Computer Based Test. (CBT)
UNICAL Post UTME Screening Exercise – Important Information.
NOTE:
Impersonation is a serious offence and anyone caught impersonating will be handed over to the Law Enforcement Agents.
Any Candidate who fails to take part in the screening exercise automatically loses his or her chance of being considered for admission.
GSM handsets, calculators, or any other extraneous materials MUST NOT be brought into the screening hall. Such materials if confiscated will not be returned.
Parents/Guardians should please stay away from the University campus on the screening days. They should stop by the gate.
Early commencement of registration is advised to avoid web congestion in the dying hours.
Candidates are required to come with the following items for the screening exercise.
2015/2016 original examination UTME result slip showing candidate's photograph.
HB pencil, eraser, and a ball-point pen.
For assistance,
Zellence UNICAL Office Graduate School Building, UNICAL 08035191335, 07058693137, 08032677367, 08057030644.
MyEduGist Team
If you have any question on this article, kindly drop them in the comment section. I promise to get back to you as soon as possible.
Also don't hesitate to sign up for our Newsletters, like us on  Facebook, follow us on Twitter and Google+
(Visited 515 times, 1 visits today)