After secondary school you proceed to University, Polytechnic or College of Education to get a degree or certificates. But I want you to know that the degree and certificates is not enough you must go further to get a professional certification base on your degree, certificates or desires.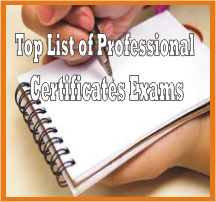 CHECK: Professional Bodies, Associations & Institutions in Nigeria with Contacts
I want you to note that all professional certificates are very importance, depending on the sector you are working or desiring to work with. I have had the opportunity to work in a company were almost everybody had one certification or the other, it was really great.
Therefore the management of MyEduGist has gone this far to compile almost all the professional exams that lead to the professional certificates for people that are willing to write the exams. Below are the top lists of professional / certificate exams
TOP LISTS OF PROFESSIONAL CERTIFICATE EXAMINATIONS
I can't really say the list is 100% complete because of the new professional exams that are yet to be online.
If there is any Professional Exams that is not included above, please share it in the comment box.
MyEduGist Team
If you have any question on this Post, kindly drop them in the comment section. I promise to get back to you as soon as possible.
Also don't hesitate to sign up for our Newsletters, like us on  Facebook, follow us on Twitter and Google+
(Visited 887 times, 1 visits today)