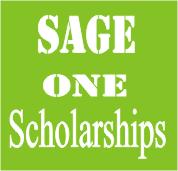 This is to inform the general public and especially those students that are willing to study in Universities of United State and Canada that Sage One Scholarships Award is now on progress for Full Time High School Graduates or Post-secondary Program in Entrepreneurship, General business, Accounting, Finance and Economics.
About Sage Software, Inc
Sage Software, Inc is a company that provides accounting, ERP, HR, payroll, asset management, and payment solutions for small and midsized businesses. Sage Software, Inc combines social, mobile, real-time technology to put live information at your fingertips so you can make fast, informed decisions. Sage Software, Inc is creating a high speed, high performance culture, and becoming One Sage – a single organization that delivers the same outstanding customer experience the world over. Sage Software, Inc give businesses around the world the information, insight and tools they need to succeed today.
About Sage One Scholarships Award
Sage One Scholarship Award is offered by the Sage Software, Inc. The Sage One Scholarship program allows you the opportunity to win a scholarship that will enable you to enhance your education to become the next great leader of your generation. Develop the necessary skills you need for business and be ready for the next stage in your career.
Who's Eligible for Sage One Scholarships
Only legal resident of U.S. or Canada are eligible to apply.
Either a High school student who is graduating within the next 12 months or a postsecondary college/University student currently enrolled full-time at an accredited institution in U.S. or Canada is eligible to apply.
Sage One Scholarships – Area of Study
Sage One Scholarship Awards Schedule
One $10,000 award for Canada
One $10,000 award for United States
Applicable for use toward an accredited postsecondary institution in North America
How to Apply for Sage One Scholarships Award
Step 1. Create a Vine video about one of the following topics:
How entrepreneurship helps with the growth of our society.
Why finance, accounting, or economics is key for the future of your country.
How studying one or more of accounting, entrepreneurship, business, finance, or economics will help you reach your career goals.
Step 2. Post your video to Vine using the hashtag #SageAccountingLove.
Step 3. Complete the entry form below and include the link to your video.
Step 4. Share your video on Twitter and invite your friends to help you win the scholarship by retweeting.
For more information about Sage One Scholarships and to complete the Contest Entry Form visit this link: http://www.sage.com/ca/sage-one/resources/scholarship
Sage One Scholarships Award Application Deadline
The Sage One Scholarships Award Application Deadline is November 30, 2015.
Be on the lookout for the next Sage One accounting love scholarship contest, which will begin on December 1, 2015, with a deadline for entry on May 31, 2016.
MyEduGist Team
If you have any question on this Post, kindly drop them in the comment section. I promise to get back to you as soon as possible.
Also don't hesitate to sign up for our Newsletters, like us on  Facebook, follow us on Twitter and Google+