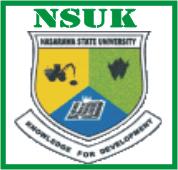 We are glad to announce to the general public that Nasarawa State Univrsity, Keffi NSUK postgraduate registration and clearance procedures for new and returning students for 2015/2016 academics session has also been released online.
All new and returning PG students of are hereby informed that the registration of Fresh and Returning Postgraduate Students for 2015/2016 academic session begins on 12th October, 2015 -30th October, 2015.
NSUK Postgraduate Newly Admitted Students Registration Procedures
All newly admitted students are expected to adhere to the following registration procedures:
1. Login to the Portal (www.nsuk.edu.ng) to accept Admission and Print Acceptance payment Invoice.
2. Collect Teller from Bursary unit of the PG School and proceed to Bank for Payment of ₦15,000 acceptance fee
3. Login to Portal to Confirm Payment and Print Clearance/Screening Form and Admission Letter
4. Proceed to Department for screening (HOD).
5. Proceed to School of postgraduate studies for screening (secretary, SPGS)
6. Login back to Portal to Print School Fee Invoice after 24 hours of screening at the PG school
7. Collect Bank Teller from Bursary Office in the PG School and Proceed to Bank for Payment.
8. After payment at the designated banks, using application I.D number, printout the payment Receipt, course registration form, students information form from the University Portal.
9. Return to the School of post graduate studies for the collection of files and registration number.
10. Submit files to School of Postgraduate Studies and Department.
11. Proceed to Student Affairs for processing and collection of student identity card.
NSUK Postgraduate Returning Students Registration Procedures
All returning students are to proceed to the university portal to print payment invoice and proceed to Bursary unit of the PG School to collect payment teller. Then proceed to Bank for Payment, return back to the portal to print your school fees receipt, course forms and progress report as applicable.
Upon completion of the above processes, copies should be submitted to the SPGS for filing.
Signed: Secretary, SPGS
MyEduGist Team
If you have any question on this Post, kindly drop them in the comment section. I promise to get back to you as soon as possible.
Also don't hesitate to sign up for our Newsletters, like us on  Facebook, follow us on Twitter and Google+