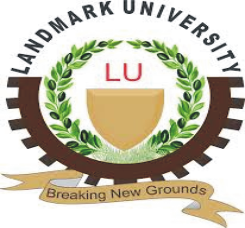 Landmark University is a private university established by the Living Faith Church Worldwide committed to raising leaders who shall be equipped with skills and character to lead the world in meeting the needs of humanity.
This is to inform the general public that Landmark University, Omu-Aran, Kwara State for 2015/2016 academic session is in progress (Full Time Programmes). Any student looking for admission, please hurry up and take this opportunity now.
Before you apply, below are the Full Time Programmes with their durations;
College of AGRICULTURAL SCIENCES
1. B.Agric. (Soil Science) -5years
2. B.Agric. (Crop Science) – 5years
3. B.Agric. (Animal Science) – 5years
4. B.Agric. (Agric. Extension & Rural Development) – 5years
5. B. Agric. (Agric. Economics) – 5 years
NEW PROGRAMMES
6. B.AQUACULTURE AND FISHERY MANAGEMENT – 5 years
7. B.FOREST RESOURCES & WILDLIFE MANAGEMENT – 5 years
8. B.Sc (FOOD SCIENCE AND NUTRITION) – 5 years
9. B.Sc VETERINARY SCIENCES – 5 years
College Of SCIENCE AND ENGINEERING
1. B.Sc (Computer Science) – 4 years
2. B.Sc (Biochemistry) – 4 years
3. B.Sc (Microbiology) – 4 years
4. B.Sc (Industrial Chemistry) – 4 years
5. B.Sc (Physics & Electronics) – 4 years
6. B.Sc (Maths and Statistics) – 4 years
7. B.Eng (Civil Engineering) -5 years
8. B.Eng (Chemical Engineering) -5 years
9. B.Eng (Mechanical Engineering) -5 years
10. B.Eng (Electrical & Electronics Engineering) – 5 years
11. B.Eng (Agricultural Engineering) – 5years
NEW PROGRAMMES
12. B.Sc (APPLIED BIOLOGY & BIOTECHNOLOGY) – 4 years
13. B.Sc (GEOLOGY) – 4 years
14. B.Sc (GEOPHYSICS) – 4 years
15. B.Sc (PHYSICS & ELECTRONICS) – 4 years
16. B.Sc (MATHS & STATISTICS) – 4 years
College of BUSINESS AND SOCIAL SCIENCES
1. B.Sc (Accounting) – 4 years
2. B.Sc (Banking & Finance) – 4 years
3. B.Sc (Business Administration) – 4 years
4. B.Sc (Economics) – 4 years
5. B.Sc (Political Science) – 4 years
6. B.Sc (International Relations) – 4 years
7. B.Sc (Sociology) – 4 years
NEW PROGRAMMES
8. B. Sc (MASS COMMUNICATION) – 4 years
How to Apply:
Interested applicants are to visit www.admission.lmu.edu.ng to obtain their forms at the rate of Five Thousand Naira (#5,000.00), payable ONLY with the ATM card.
Caution!
Please note that cash deposit is not acceptable.
Landmark University does not have any agent or representative to process the 2015/2016 admission.
Does not assume legal liability for the use of any such third party, money paid to such individual or its acts or its omissions committed as result of the use of the third party.
Does not outsource its admission exercise; make warranty, express or implied, regarding the accuracy, Correctness, Completeness resulting from the use of third party for the admission application process.
GENERAL REQUIREMENTS:
The minimum entry requirements for admission into Landmark University are credit level pass in 5 subject at the SSCE / GCE O'Level/NECO/NABTEB or its equivalent obtained at not more than two sittings. The subjects passed must include English Language, Mathematics and other subjects relevant to the proposed course of study. Candidates are also to note that there are other requirements that may be specific to a College and/or a Programme.
For more information visit please www.lmu.edu.ng or www.admission.lmu.edu.ng as her official websites. You can also call the Admission Office on (234) 708 711 641, (234)703 8205649, and (234) 815 131 9178
"You are hereby invited to join the Army of Ground Breakers"
USEFUL LINKS:
If you have any question on this article, kindly drop them in the comment section. I promise to get back to you as soon as possible.
Also don't hesitate to sign up for our Newsletters, like us on  Facebook, follow us on Twitter and Google+
(Visited 346 times, 1 visits today)