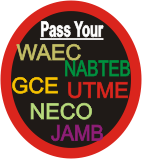 Are you tired of reading and writing WAEC GCE, NECO, NABTEB, JAMB, UTME and other examinations every year without success? Are you planning write another WAEC GCE, NECO, NABTEB, JAMB, UTME?Do you want to write success story this year? If your answer is yes, then this write up is for you where I shall be sharing with you the most important 15 steps that you need to pass your exams this year.
I know that it is a desire of every candidate to have good result after written WAEC GEC, NECO, NABTEB, JAMB, UTME and other exams, but it is a pity that some candidate failed because of lack of improper data entry when they are filling the examination form.
You might have attended several seminars, special classes and purchased some ebooks on how to read and pass WAEC GCE, NECO, NABTEB, JAMB, and UTME exams, yet you are still finding yourself in the same pit because you are yet to do the right things at the right time.
Most of the reasons why most students failed WAEC GCE, NECO, NABTEB, JAMB, UTME and other examinations is that they refused to follow all the instructions, techniques and rules that you need to have good grade in your exams.
If you really want to pass your WAEC GCE, NECO, NABTEB, JAMB, UTME and other examinations, please take note of all steps I am going to give you very serious and important.
How to Read & Pass WAEC GCE, NECO, NABTEB, JAMB, UTME Exams
Step 1: Buy the Examination Form
The number one reason why some student failed WAEC GCE, NECO, NABTEB, JAMB, UTME and other exams is that they buy fake form. Ensure that you buy the original form from the appropriate agent. I want you to know that number one step to have good result is to buy original form.
Step 2: Fill your Form correctly
Thank God you buy original form. The next thing to do is to make sure that you complete your form correctly. Entry your data such as names, exam numbers, gender etc correctly is very essential to your success. Use the examination rules and regulations to complete your form. This is your responsibility for success.
Step 3: Get the Exams Syllabuses
The next step after you have filled your form is to get the examination syllabuses and start study. Even before you buy the form, because "the earlier the better". The syllabus will give the insight on which topic to study. Studying according to the syllabuses will really help you to perform better during the examination.
Step 4: Get relevant Textbooks and Materials for Study
Getting relevant textbooks and materials is very important to your success. Please either you want to buy or borrow, just make sure you get textbook and study according to the syllabuses.
I want you to know that large number of people that failed WAEC GCE, NECO, NABTEB, JAMB, UTME and other examinations are the people that buy the exam form, filled, submit and waiting for the day of the examination without any preparation.
Therefore, if you really want to succeed follow the steps and apply them accordingly.
Step 5: Read for Understanding
A lot of students' waste their time, money and energy doing the wrong things and expecting good result. Not only getting the syllabuses and textbooks will guaranty your success, but you must read for understanding. Make sure you understand and assimilate everything you are reading. Do more practices to argue your knowledge.
Step 6: Use Past Question to Practices
After you have understand and assimilate whatever you read, you will need to prove yourself by using past questions for practices. Past question help you to determine how far you understand and assimilate such questions. Please always use past questions to practices according to the old examination timetable.
Step 7: Have a Timetable for Studying
This is very important; you must study with a timetable. Have a special time for study. Take it serious and make sure that before the day of examination, you study and prepare by the old examination timetable.
Step 8: Locate your Examination Centre
Ensure you locate your examination hall before the examination date. Because if you are trying to locate the exam centre at the day of exam, you may get late to the hall and this can cause frustration, distraction, and reduction of possible chance of passing that first exam.
Step 9: Obey all Examination Hall Instructions
When you collect your question paper, guard it jealously, when you are asked to start, do so and when you are asked to stop, stop in other to avoid any punishment that may lead to failure. Please remember that you are writing an examination, avoid the use of pidgin English.
Step 10: Obey all Question Paper Instructions
This is another very important point you must take note when writing WAEC GCE, NECO -NABTEB, JAMB, UTME and other examinations and other exams. Make sure you obey all question paper rules and regulations. Take time to read the question paper instructions very well such as the number of question to answer in all and from each section.
Use your time judiciously, avoid wasting much time on each question, and allocate time for the entire question you want to answer. If you are asked to answer only 10 questions from 15 questions, please don't say because you know all you will answer all. It is very wrong. Answer the question precisely. Answer all compulsory questions and attempt other question according to the instruction.
Step 11: Keep your Work very Neat and Tidy
This is very important; let your handwriting be legible. Present your answers properly. Keep your work very neat and tidy. Bad hand writing is one of the factors that affect students not to have success in their exams. Please compose your writing very well.
Step 12: Avoid Examination Malpractice
Money people failed WAEC GCE, NECO, NABTEB, JAMB, UTME and other examinations, because they engaged in examination malpractice. Don't expose your answers to anyone and don't copy anyone if thoroughly you want to succeed in your exams.
Step 13: Don't Rush to Submit your Answer
Please don't rush to submit your answer, read over all your work to correct errors if there is any one. Recheck your name, exam, number, subjects code and exam question number.
Step 14: Pray before you submit your Answer booklet
I believe you would have pray before you start answering any question. And after you might have cross check all your answer and every other thing, pray a shot prayer and commit your answer booklet into the hand of God.
Step 15: Leave the Examination Hall Quietly
Please after submission, leave the examination hall peacefully, don't stay around to cause trouble. Go home straight rejoicing because success is yours.
Last Note:
It is not too hard to pass WAEC GCE, NECO, NABTEB, JAMB, UTME and other examinations. If you can give yourself more time to prepare before the examination date and also follow the simple steps above, your success will be inevitable.
Don't be worry, relief yourself from anxiety if you did not finish answering the questions. Just make sure you do more than your best and leave the rest for God.
SUCCESS IS YOURS
If you have any question on this article, kindly drop them in the comment section. I promise to get back to you as soon as possible.
Also don't hesitate to sign up for our Newsletters, like us on  Facebook, follow us on Twitter and Google+