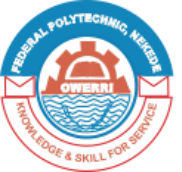 This is to notify the general public that the Federal Polytechnic, NEKEDE, Owerri is inviting suitably qualified candidates to her 2015/2016 academic session ND Evening and ND Weekend programmes.
Federal Polytechnic, NEKEDE HND Available Programmes
SCHOOL OF BUSINESS AND MANAGEMENT TECHNOLOGY
Accountancy Department
Banking & Finance Department
Bam, Marketing, Purchasing & Supply Departments
Cooperative Economics & Management
Office Technology and Management
Public Administration Department
Taxation Department
SCHOOL OF ENGINEERING TECHNOLOGY
Agric. Engineering Department
Mechanical Engineering Department
Electrical/Electronic Engineering Department
Civil Engineering Department
Computer Engineering Department
Chemical Engineering Department
Mechatronics Engineering Department
Agricultural Technology Department
SCHOOL OF INDUSTRIAL & APPLIED SCIENCES
Science Technology Department
Computer Science Department
Food Technology Department
Maths and Statistics Department
Library & Information Science
Fisheries Technology
Hospitality Management
Dispensing Optometry
Pharmaceutical Technology
SCHOOL OF ENVIRONMENTAL & DESIGN TECHNOLOGY
Architecture Department
Arts and Design Department
Building Technology Department
Estate Management Department
Quantity Surveying Department
Urban and Regional Planning
Surveying and Geo-informatics
SCHOOL OF HUMANITIES AND SOCIAL SCIENCES
NATIONAL DIPLOMA (ND) DURATION – 2YEARS
How to Apply for Federal Polytechnic NEKEDE ND 2015 / 2016 academic session
Below is the process of filling NEKEDE ND Registration Application Forms
Step 1: Generate Invoice
To apply for any NEKEDE ND programme, you must generate an invoice. This should be taken to any of the designated banks where you would pay the exact amount on the invoice. Click the link to Generate Invoice
Please Cross-check all the data you filled because changes would not be allowed afterwards.
Step 2: Proceed to Bank
Proceed to the bank with the invoice generated to obtain a confirmation order number
Approved Banks Nationwide where payment can be made are:
– Fidelity Bank Plc
– United Bank For Africa Plc
– Zenith Bank Plc
– Federal Polytechnic Microfinance Bank
Step 3: Fill Application Form
If you have generated your invoice and have made payment at the bank and have obtained an eTranzact Confirmation Order Number, Click the link to fill Application Form.
Enter the confirmation order number obtained from the bank
Step 4: Complete the form as applicable
The next step is to complete the form as applicable by scan and paste a colour passport-size photograph in the space provide on the online form.
Step 5: Confirm and submit
Confirm and submit your application form. After that you should receive an sms with your application number on successful completion.
Step 6: Print a copy
Last but not the least, print a copy of the completed Acknowledgment Slip and Exam Slip
Application Dead Line
All Applications MUST be concluded on or before 12 midnight of 30th July, 2015.
Note:
Note that your information and personal details are linked to your Confirmation Order Number, your invoice number and the form you purchase. You would not be able to correct or change the information with which you obtain your Confirmation Order Number, your invoice and or your Application form after submitting that information or purchasing the form. If you make any mistake, do not use the Confirmation Order Number or invoice so generated to obtain a form. Rather, generate another number and invoice with your correct information and proceed with those details.
Applicants can start and complete this process anywhere in the country. Avoid travelling to Owerri to fill the form. The forms can be filled from your mobile phone.
For all Issues, mail ndissues@fpno.edu.ng or support@lloydant.com visit www.lloydant.com/support or call 07087572454, 08064232915
Also don't hesitate to sign up for our Newsletters, like us on  Facebook, follow us on Twitter and Google+
(Visited 359 times, 1 visits today)