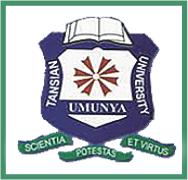 We are glad to inform the general public that the List of courses offered at Tansian University (TU) – National Universities Commission (NUC) certified can now be view online for all interested student.
The management of institution is using this medium to inform all the interested prospective studnets that the Tansian University has been granted approval by the National Universities Commission (NUC) to run the programmes as listed below.
Tansian University (TU) Available Degree Programmes
Faculties And Departments
FACULTY OF NATURAL AND APPLIED SCIENCES
Computer Sciences
Biological Sciences
Chemical Sciences
Sc Chemistry
Sc Biochemistry
FACULTY OF MANAGEMENT AND SOCIAL SCIENCES
Economics
Accounting
Sc Accounting
Sc Banking and Finance
Business Administration
Sc Business Administration
Mass Communication
Political Science
Philosophy and Religious Studies
FACULTY OF EDUCATION
Special Education
Ed Primary Education
Ed Education Management
Ed Guidance & Counselling
Arts Education
A (Ed) Education/English Language & Literary Studies
A (Ed) Education/CRS
Science Education
Sc (Ed) Education/Biology
Social Science & Vocational Education
Sc (Ed) Education/Economics
Sc (Ed) Education/Political Science
Sc (Ed) Education/Accounting
GENERAL STUDIES AND ENTREPRENEURIAL SKILL COURSES
With a view to enriching the curriculum, the University has established some academic support units to facilitate the academic departments in their direct teaching areas. Each academic support unit is established to facilitate learning and assist students in attaining the objective of a 'total man' fully equipped to face the challenges of life outside the university environment.
The National Universities Commission, as part of the minimum academic standard, has made it mandatory for all undergraduates in Nigerian Universities to study for and earn credit units in General Studies. Tansian University, because of its distinctive posture, has also made it mandatory for its students to earn credit units in entrepreneurial skills. These requirements provide opportunity for students to have some knowledge of other disciplines apart from their areas of specialization and also learn some trades that can be of benefit to them in the future.
For this reason, the University has set up a General Studies Unit to achieve the following objectives:
Fostering the development of community skills among students.
Providing basic knowledge to students in other disciplines apart from their area of specialization.
Developing entrepreneurial skills for dependency and ability to maximize opportunities.
MyEduGist Team
If you have any question, kindly drop them in the comment section. I promise to get back to you as soon as possible.
Also don't hesitate to sign up for our Newsletters, like us on  Facebook, follow us on Twitter and Google+