This is to inform the general public that University of Benin, UNIBEN that the date for the physical clearance procedures newly admitted students of the university JUPEB programme for the 2015/2016 academic session has been released.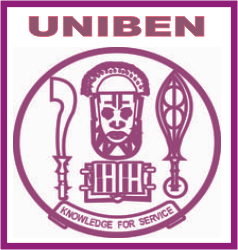 All candidates admitted in to the University of Benin, UNIBEN JUPEB programme for the 2015/2016 academic session should be aware that the physical clearance is scheduled to begin 12th October, 2015 to 16th October, 2015.
UNIBEN JUPEB Physical Clearance Procedures 2015/2016
All candidates that are successful in the UNIBEN JUPEB entrance exam are hereby required to login at https://www.uniben.edu, click on student portal and login with the username and password used for their application and result checking. Then follow the instructions below:
Click on "Download application slip". Print it and take note of your ID. and Password. You will henceforth, use your ID and Password for subsequent login. Login and print your provisional admission letter.
ONLY CANDIDATES WITH THE RIGHT PASSPORT SIZE (1-inch X 1-inch) WITH RED BACKGROUND PHOTOGRAPHUSED FOR THE SCREENING AND ALREADY EMBEDDED IN THEIR DOCUMENTS AND WITHREQUISITE RESULTS TO CLEAR SHOULD PROCEED TO FILL OUT THEIR CLEARANCE FORM
Optional: You can change your password by clicking "change password" button and you can also change your email and phone number by using "Edit"button
 Your record has been activated to enable you fill out the clearance form.
Click on "My Data" on the menu and select "Clearance data" option to open your Clearance/Eligibility form
Fill the Clearance/Eligibility Form appropriately. Scan and upload the following documents:
a.) "O' level Certificates and Statements of 'O' level results from the schools
b.) Birth Certificate or Declaration of Age
c.) Acceptance Letter
d.) Guarantor's Letter
e.) Affidavit of Good Conduct
f.) Affidavit of Non Membership of Secret Cults
g.) UNIBEN offer of Provisional Admission slips
(Please note that affidavits sworn in any Court of Law in Nigeria are acceptable)
At the bottom of the Clearance/Eligibility Form, click on the "Save" button to return later and complete the form OR click on"Save and request clearance" button to finally submit your Clearance/Eligibility
Make relevant copies as requested by your officers
Upon successful physical clearance, proceed to pay you School Fee/Charges. Please note that you are not allowed into the lecture halls and to proceed with any other activity without evidence of payment of fees
On the Menu, click on "My data". select "Payment" option then click on "Add online payment ticket" button
Select from the Payment Category, "School Fee" and click on "Create Ticket" button and then click the link under Payment ID
Click on the "College Pay" button to view payment details and click the "Submit" button to proceed with the payment through Interswitch payment gateway.
Select your ATM Card type: Verve or Master Card and supply the card details (card number, expiration date, 4-digit PIN etc) as required.
Then click on "PAY" button.
MyEduGist Team
If you have any question on this Post, kindly drop them in the comment section. I promise to get back to you as soon as possible.
Also don't hesitate to sign up for our Newsletters, like us on  Facebook, follow us on Twitter and Google+