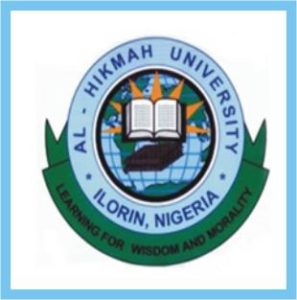 This is to inform the general public that the Al-Hikmah University Postgraduate Programmes admissions applications form for the 2017/2018 academic session now available on sale.
The management of the institution Al-Hikmah University is using this medium to invites qualified prospective postgraduate applicants for her 2017/2018 academic session leading to the award of Postgraduate Diploma in Education (PGDE) and Master Degrees of the University. The M.A. degree Programmes run for a minimum period of 12 calendar months and a maximum period of 24 calendar months on full-time basis. The PGDE runs on Part-time basis.
Al-Hikmah University Available Programmes for Postgraduate
The following Programmes are available for the 2017/2018 Academic Session:
(1) M.A. (Arabic Studies)
(2) M.A. (Islamic Studies)
(3) M.A. (History)
(4) PGDE (Postgraduate Diploma in Education)
Al-Hikmah University Postgraduate Admission – General Entry Requirements
(i) Applicants for the academic Master's degree programmes who are graduates of Al-Hikmah University, Ilorin or any other recognized Universities, must possess a minimum of Second Class Honours Degree (Upper Division). However, applicants with Second Class (Lower Division) may be admitted provided they score a minimum of 60% in a qualifying examination to be administered by the University.
Regardless of the institution where the Bachelor's degree is obtained, ALL CANDIDATES shall apply early for their official Bachelor's degree academic transcripts to be addressed to The Dean, Postgraduate School, Al-Hikmah University, Ilorin.
(ii) Postgraduate Diploma in Education (PGDE): Applicants must possess a first degree from Al-Hikmah University Ilorin or any other recognized University. Holders of Higher National Diploma (HND) are also eligible. However all candidates must satisfy the University's O'level requirements.
How to Apply for Al-Hikmah University Postgraduate Prgramme
(i)  Applicants for M.A. degree and PGDE programmes are to pay a non-refundable fee of ₦20,000 online after completing the form.
(ii) Print the duly completed form, online Payment Receipt and Two copies of the Reference Form.
(iii) Present the online Payment Receipt to the University Bursary Department and obtain the official receipt.
(iv) Present the duly completed form with relevant credentials (Original & Photocopy) and official receipt at the Admissions Office for immediate screening.
All Payments are made online, Al-Hikmah University does not accept cash payment or direct payment into the school Account.
MyEduGist Team
If you have any question on this Post, kindly drop them in the comment section. I promise to get back to you as soon as possible.
Also don't hesitate to sign up for our Newsletters, like us on  Facebook, follow us on Twitter and Google+
(Visited 56 times, 1 visits today)